The 'Chain' arrchetype focuses on 1 of 2 effects called paralyze or bind keyworded for coveniancy of other card effects. only 1 card can be paralyze or bound to a card at a time (meaning 2 cards cant be bound to knight in chain-mail armor by his effect at the same time)
This are the cards i have up to now (Knight's wording might be confusing) :
Monsters :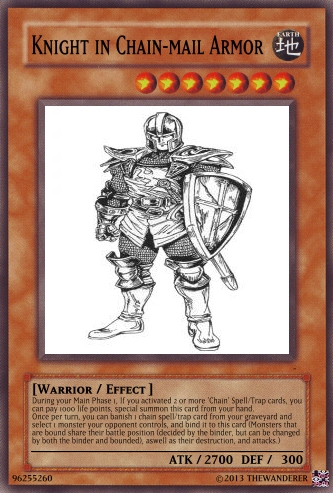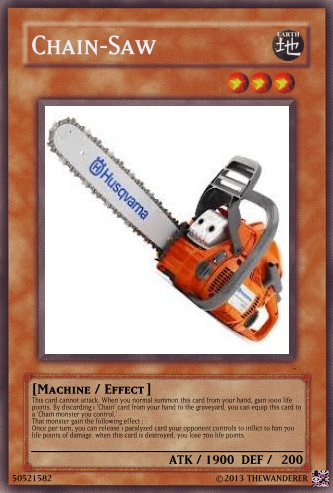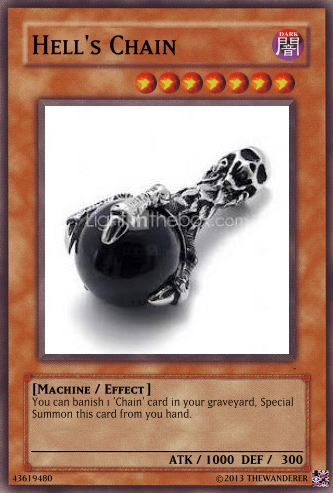 Spells :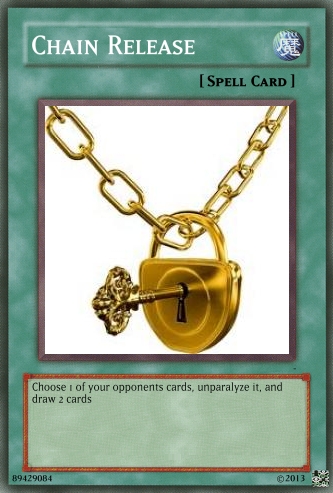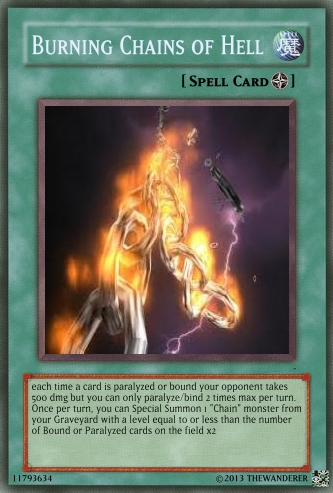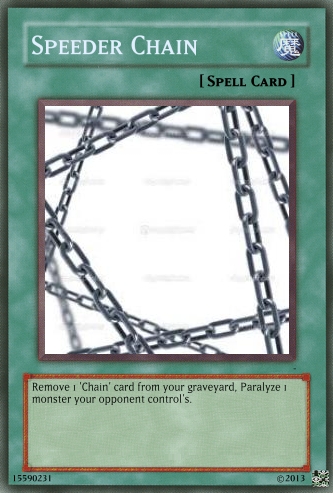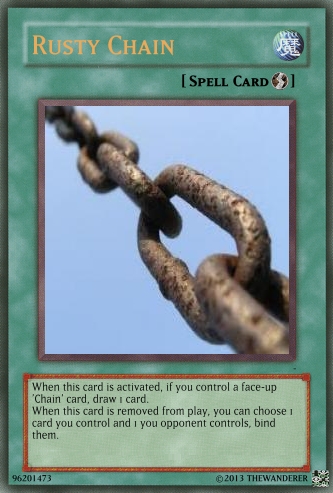 Traps:
Xyz :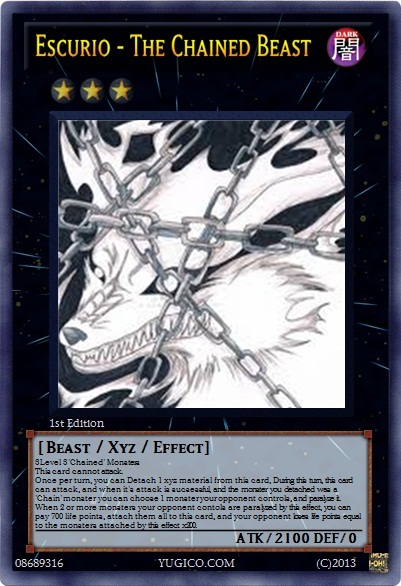 (Corrected) Effect : 3 Level 3 'Chain' Monsters
This card cannot attack.
Once per turn, you can Detach 1 xyz material from this card, During this turn, this card can attack, and when it's attack is sucsessful, and the monster you detached was a 'Chain' monster you can choose 1 monster your opponent controls, and paralyze it.
When 2 or more monsters your opponent contols are paralyzed, you can pay 700 life points, attach them all to this card, and your opponent loses life points equal to the monsters attached by this effect x200.
Last edited by The Wanderer on Sat Mar 16, 2013 9:55 pm; edited 13 times in total

The Wanderer




Posts

: 9


Join date

: 2013-03-14



Welcome to LCCG and stuff. I see you've already gone on the chatbox. Remember:
"Help will always be given at
Hogwarts
the chatbox to those who ask for it."
-
Dumbledore
me, yay
---
Chain is alright for the other effects but i wouldn't use it outside this deck cause it's so vulnerable.
Knight in chainmail armor's Summon effect either needs to be easier or you need to make more chain S/T cards. The "bind" effect is also confusing. I get that if you change knight's battle position, the other monster will be changed as well. But what does it mean to "share attacks"? And especially "decided by the binder, but can be changed by both the binder and the bounded". What? In any case, this needs a better definition.
Chain-saw has a cool effect. I don't think the discard cost to equip it is necessary, though.
Chain shackles is pretty similar to Chain, so same comments on this too. The wording should be similar to this though:
"When this card is summoned while you control another 'Chain' monster, you can equip it to a card your opponent controls as an Equip Spell Card (including spell & trap cards), then give control of this card to your opponent. While equipped with this effect, that card is paralyzed."
Chain Release is great and probably the most usable out of this set.
Chain-Breaking is meh, considering the slow rate at which you paralyze/bound cards.
----
Anyway welcome again. Maybe you could post an introduction in the forum?

_________________
Ice Cube takes all your moms to prom
BEES:
these are only sample cards thoug, i'm not even close to finishing making all the cards, it would be much better when done, i'll also edit and clear out the alredy made stuff later. and to your question about bind : it means that when monster bound to another attacks a monster, both monsters attack it, even if it's your own, but i might take that out though, for it to not be abused (alredy thought of sum ways). And the other part means that when 2 monsters are bound, the binder chooses wether the bound monster changed it's position (if neccesary) or if his monster changes pos. (again, if neccesary.)

The Wanderer




Posts

: 9


Join date

: 2013-03-14



I think I'm starting to get what happens with bound monsters now. Chain Cross-Lock is interesting, it equips to the opponent's monster, not your banished monster right? (just checking).

Escurio is also interesting, although hard to get out and easily counterable. What if you made "If 2 or more monsters are paralyzed..." Without the "..by this effect" part?
_________________
Ice Cube takes all your moms to prom
BEES:
it'll be easier when i start making the engine (o' sammon un dro!), and yea it equips to the banished monster, the equip respresents the lock, and the 2 chains lock by it are the tokens

The Wanderer




Posts

: 9


Join date

: 2013-03-14



some of the new cards are not written as i meant them, i'll fix 'em soon.

The Wanderer




Posts

: 9


Join date

: 2013-03-14



Could you please post the card lores or YVD format of the cards below the images?

DIGITAL




Posts

: 1067


Join date

: 2011-03-18




The Wanderer




Posts

: 9


Join date

: 2013-03-14




---
Permissions in this forum:
You
cannot
reply to topics in this forum